Eat Taco Rice飲食店 タコライス
Charlie's Tacosチャーリータコス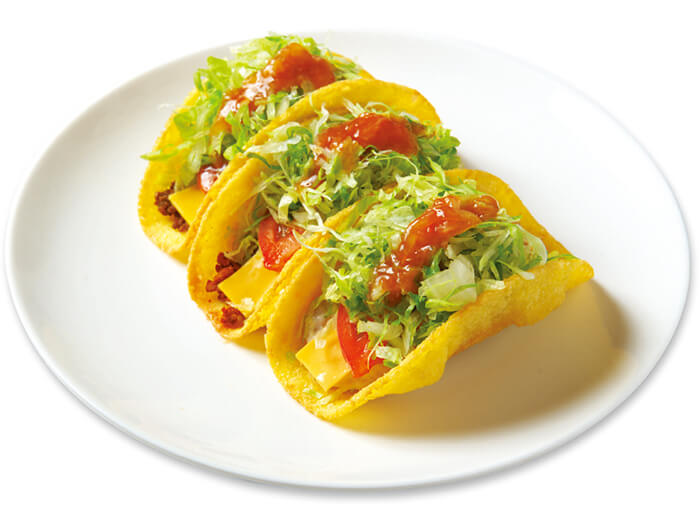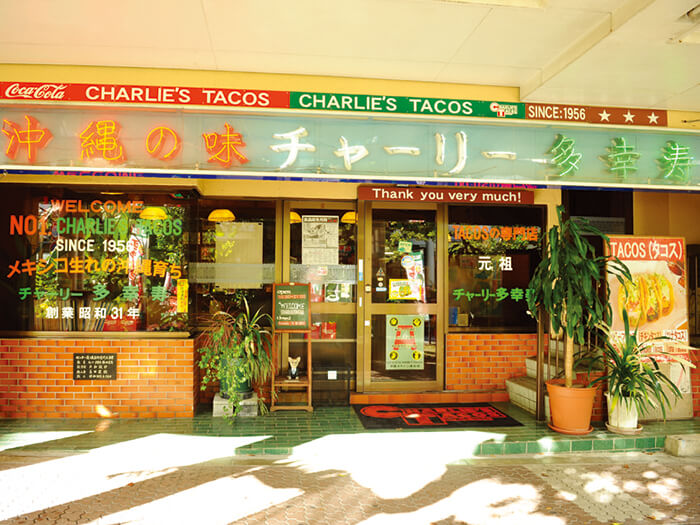 Over 50 years in business, Charlie's Tacos is Okinawa's oldest taco specialty shop. Try their chewy, soft-shell tacos packed with your choice of beef, chicken, or tuna meat, and vegetables, served with their original island-chili salsa. Loved by US servicemen, locals, and tourists alike, Charlie's delicious tacos have certainly made a name for themselves in Koza.
50年以上の歴史を持つ、沖縄で最初のタコス専門店。もっちりとしたソフトシェル(柔らかいタコスの皮)にたっぷりの具材、島唐辛子を使った特製サルサソースは、辛さと旨味のバランスが絶妙です。オリジナルタコスは、ビーフ、チキン、ツナの3種類。そのおいしさは米軍兵の間で評判となり、今ではコザ名物として多くの人に愛される有名店です。
ZIP
郵便番号

904-0004
Address
住所

4-11-5 Chuo, Okinawa-shi
沖縄市中央4-11-5
TEL

098-937-4627
OPEN
営業時間

11:00~21:00
11:00~21:00
Closed
定休日

THR (except if it falls on a public holiday)
木曜(休日・祝日なら営業)
Señor Tacoセニョールターコ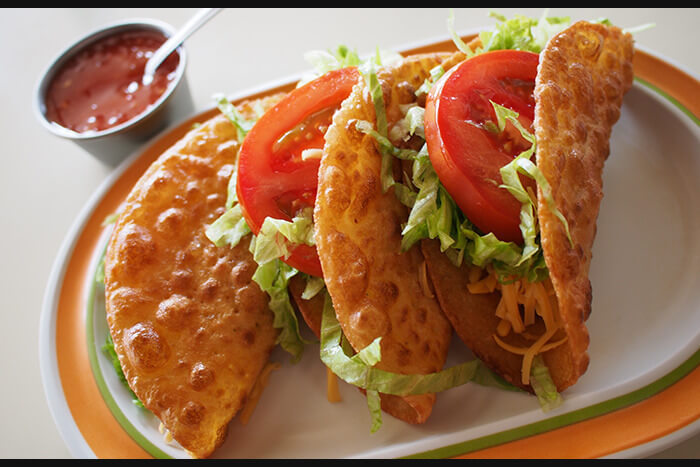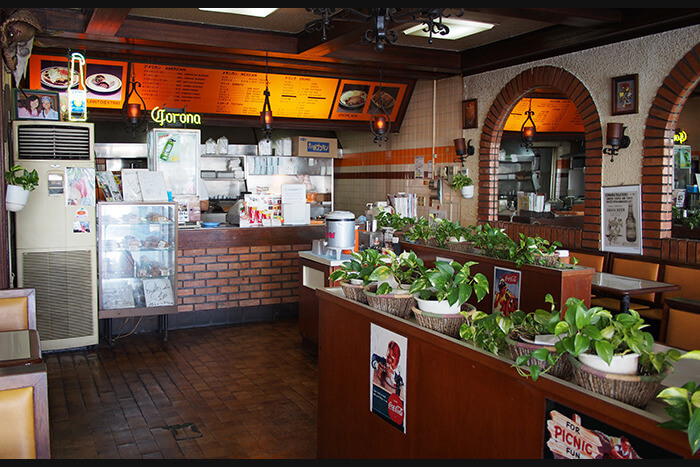 Señor Taco is a long-established restaurant that opened around 30 years ago in Plaza House Shopping Center. They are something of a pioneer for taco restaurants in Okinawa, and a number of chefs have gone on to open their own shops after training at this restaurant. The highlight of the menu is their tacos with unique shells--crunchy on the outside, chewy on the inside. It's truly a one-of-a-kind texture. The tacos are topped with spicy salsa, which proves to be a perfect match from the very first bite. Their delicious taste means that even people with small appetites will eat a set of three and think, "Just one more!" Señor Taco features authentic Mexican alternatives, including enchiladas with chicken and beans, burritos and tostadas, to ensure that there is something for everyone. The restaurant's décor allows you to enjoy the vibe of vintage Mexico. Take-out is also available, so you can collect your tacos and eat them by the ocean.
名物のタコスは1ピースから注文可能です。表面パリパリ中はもちもちという独特な食感の特製タコスシェルが評判で、ピリ辛のサルサソースをたっぷりかけて頬張れば絶妙のハーモニーを楽しめます。タコスの他に、トウモロコシでできた皮で鶏肉や豆などを巻いたインチラーダといった、本格的なメキシコ料理が味わえます。テイクアウトもOKです。
ZIP
郵便番号

904-0023
Address
住所

3-1-6 Kubota, Okinawa-shi
沖縄市久保田3-1-6 プラザハウス1F
TEL

098-933-9694
OPEN
営業時間

10:00~22:00
10:00~22:00
Closed
定休日

Not determined
無し
Oceanオーシャン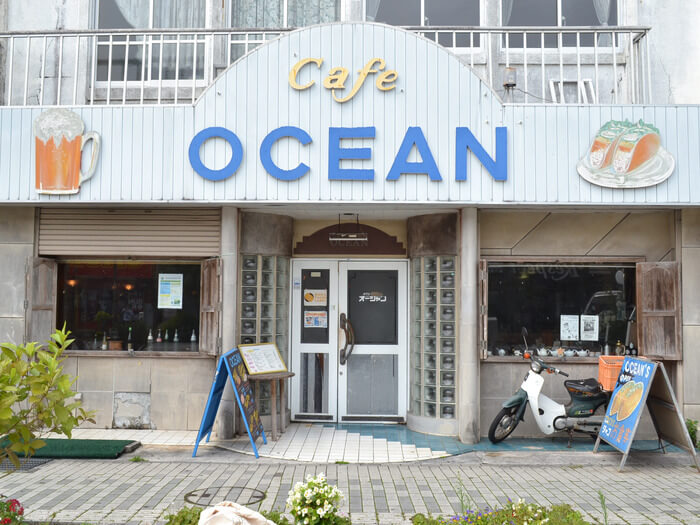 Ocean is a long-established restaurant on Gate 2 Street with a history of over 40 years, opened during the "A-Sign" era of postwar Okinawa. As you step foot into the store, you can immediately feel the history within its walls and furniture. They take pride in their original crispy taco shells, taco meat, and taco sauce, and their treasured secret recipes have remained unchanged since opening. Musicians perform here regularly, with the owner being a musician himself. Sometimes you'll find him singing behind the counter with guitar in hand. Enjoy the history, music, and hole-in-the-wall environment of this establishment.
創業から40年以上の老舗カフェです。これぞコザという雰囲気を存分に感じることができます。オススメはオリジナルの「タコス」。パリパリのシェル(=皮)・タコミート・ソースの全てがオリジナル。現在も先代から受け継いだレシピを忠実に守っているというタコスは一度食べたらやみつきになります。初めてという方にもオススメのスポットです。
ZIP
郵便番号

904-0004
Address
住所

2-15-2 Chuo, Okinawa-shi

TEL

098-938-5978
OPEN
営業時間

Around 13:30~11:30 (L.O.)
11:30~23:30
Closed
定休日

Not Determined
不定休
Freedomフリーダム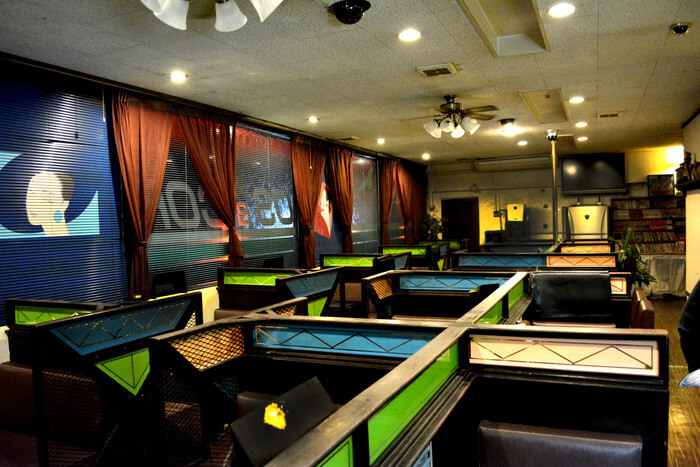 After entering Park Avenue from route 330, take your first right and you'll find Freedom Cafe located right on the corner. This 24-hour café make customers feel like they've time-slipped back into Okinawa's good old days. The cafe offers a wide range of choices from western, Japanese, and Okinawan food―their Italian cutlet being one of the most popular items on the menu. The size of the cutlet itself is eye-popping, not to mention its taste, which is outstanding. Regular patrons come to get their fill of it on a daily basis! Freedom is always packed with customers during lunch on the weekdays, and since they're open 24 hours, you can come get a bite to eat right here at Koza's long-standing restaurant anytime you want!
24時間営業の昔ながらの懐かしい喫茶店です。タコス(3P)はもちろん、メニューはとても幅広く、洋食、和食、オキナワンフードといった様々な料理が味わえます。なかでも、人気メニューは、「イタリアンカツレツ」ボリュームもさることながら、味も抜群。この味を求め、毎日通う常連もいるとか。平日はランチでのご利用のお客さんで賑わっています。
ZIP
郵便番号

904-0004
Address
住所

3-1-13 Chuo, Okinawa-shi
沖縄市中央3-1-13
TEL

098-939-5885
OPEN
営業時間

Open 24 hours
24時間営業
Closed
定休日

Not determined
無し
Shimanchu Soba島人そば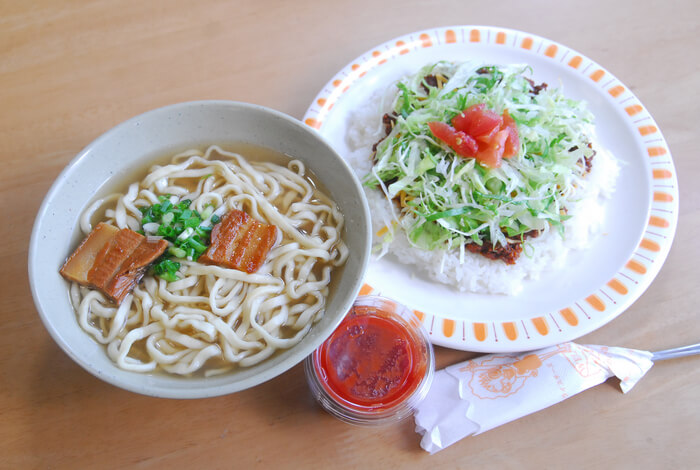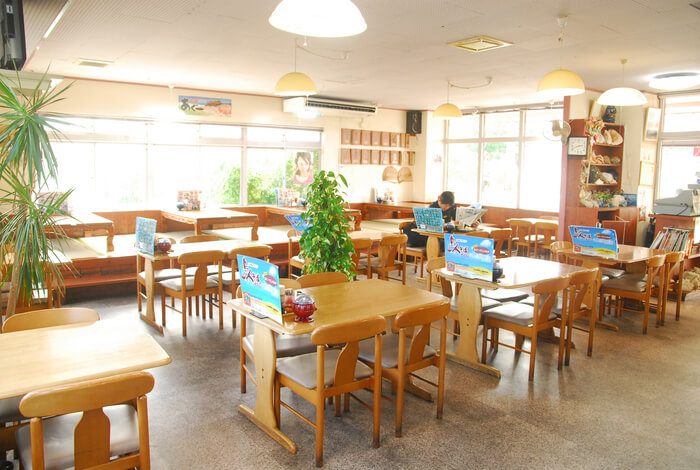 Located next to "Living Design Square Awase" (a popular furniture store in Yogi, Okinawa City), Shimanchu Soba is the sister restaurant of the long-established taco rice shop "Gate 1" located in Kin Town, outside the U.S. military base Camp Hansen.With their taco rice and Okinawa soba set, you have the luxury of enjoying two delicious dishes that represent Okinawa.With generous portions at reasonable prices, the restaurant is popular with local students, residents, and tourists as well.Shimanchu Soba takes pride in their soba soup, which is made out of five different vegetables, four different sea foods, and Okinawan pork stock.
タコライス発祥の地の一つと言われる金武町で老舗タコライスを営んでいるGate1の姉妹店。目玉はタコライスと沖縄そばが一緒に楽しめる贅沢なセット。自慢の出汁は、5種類の野菜と4種類の海産物、アグー出汁など、素材にこだわっているが、リーズナブルなお値段で味わえます。地元のお客さんや学生のリピーターも多く、観光客も訪れる人気店です。
ZIP
郵便番号

904-2174
Address
住所

3-8-1 Yogi, Okinawa-shi
沖縄市与儀3-8-1
TEL

098-931-0310
OPEN
営業時間

11:00~20:30
Closed
定休日

Okinawa Obon & New Year Holidays
お盆・正月
Alhambraギターラウンジ アルハンブラ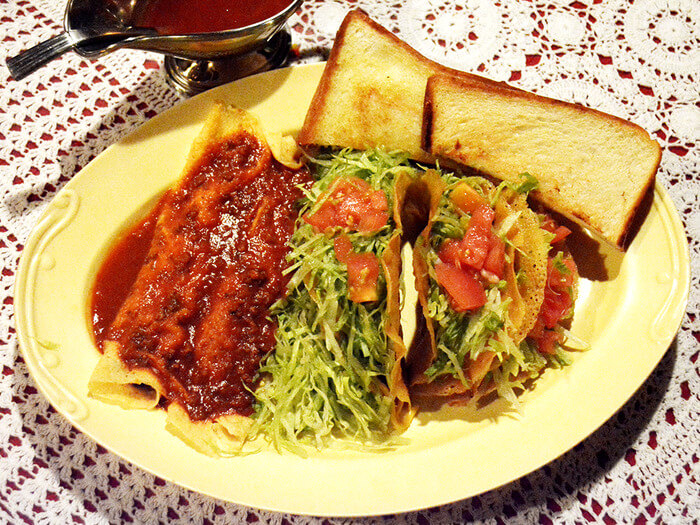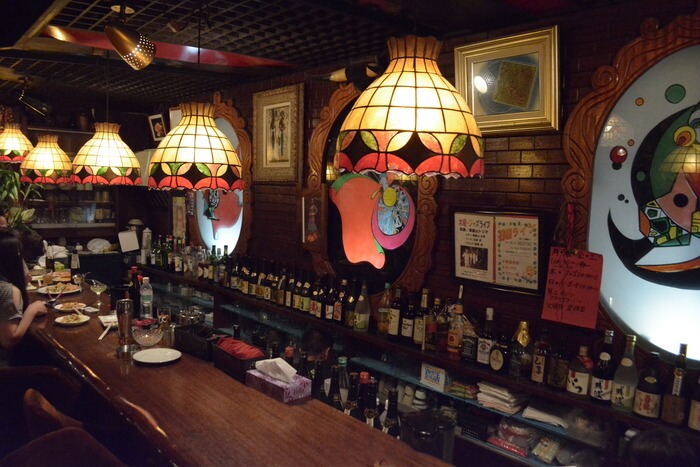 Alhambra is located in Okinawa City's Uechi area. With a long history of over 50 years, the exotic atmosphere of the bar will make you feel as if you've stepped right into a cantina in Spain! The deep history of the establishment can be felt through the old photographs of Okinawa taken from the time the bar was built. The cozy atmosphere is a popular spot among people of all ages, and daily live acoustic entertainment covering genres of Latin, bossa nova, jazz, flamenco, and classical music can be enjoyed. Their ¥1,200 "Mexican Dinner" is a highly recommended special item that comes with tacos, enchiladas, and taco rice.
創業50年以上になる老舗店舗。店内は、異国情緒溢れる雰囲気で、まるでスペインの酒場へ飛び込んだようです。創業当時からの沖縄の写真が、歴史の深さを感じさせ、落ち着いた雰囲気が幅広い世代に人気のあるお店です。オススメのメキシカンディナーは、タコスとインチラーダとタコライス全て一つに詰まったスペシャルなメニューとなっています。
ZIP
郵便番号

904-0031
Address
住所

2-20-12 Uechi, Okinawa-shi
沖縄市上地2-20-12
TEL

098-933-2175
OPEN
営業時間

20:00~2:00
Closed
定休日

Tuesday
火曜
Plus 1テイクアウト専門店 プラス1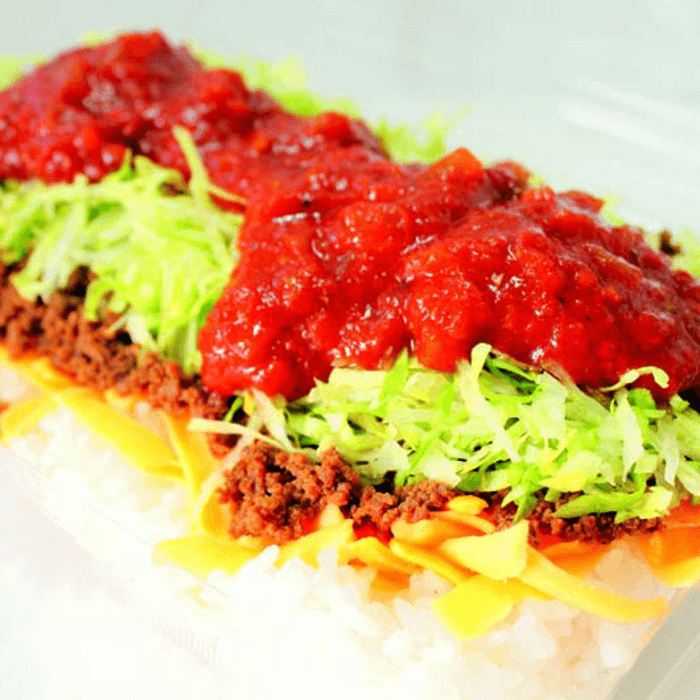 At takeout shop Plus 1, you have a choice between large or small-sized taco rice. Its sheer volume will surprise you since it is so reasonably priced. The delicious taco rice can even be enjoyed cold because it is so sufficiently flavored. Their salsa is a Plus 1 original recipe, and not too spicy. As for their tacos, the shells are deep-fried on order so the fresh crunch of the tacos can be enjoyed at their fullest.
大小2つのサイズから選べるプラス1 のタコライス。大サイズでもワンコインなのに、パックからはみ出んばかりの量の多さに驚かされます。しっかり味付けされているので冷めても美味しいタコライスです。ソースはオリジナルサルサソース。辛さ控えめもあります。タコスは注文を受けてからシェルを揚げて、サクサクの揚げたてを提供してくれます。
ZIP
郵便番号

904-0035
Address
住所

2-10-3 Minamitobaru, Okinawa City
沖縄市南桃原 2-10-3
TEL

098-932-1939
OPEN
営業時間

11:00~19:00
Closed
定休日

SUN, Public holidays
日曜・祝日
Dos Manosメキシコ料理 DOS MANOS ドスマノス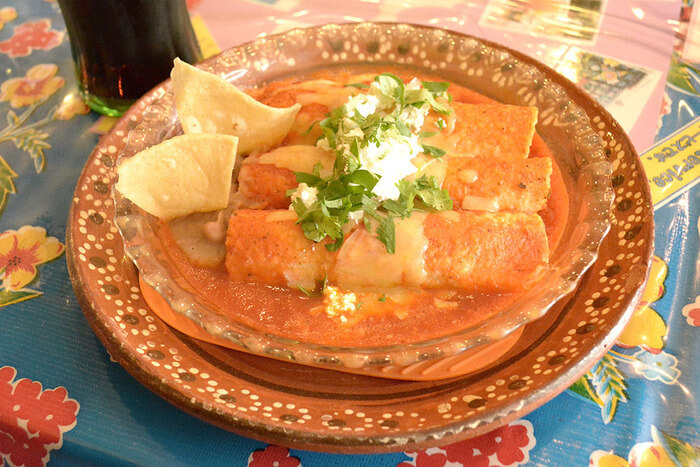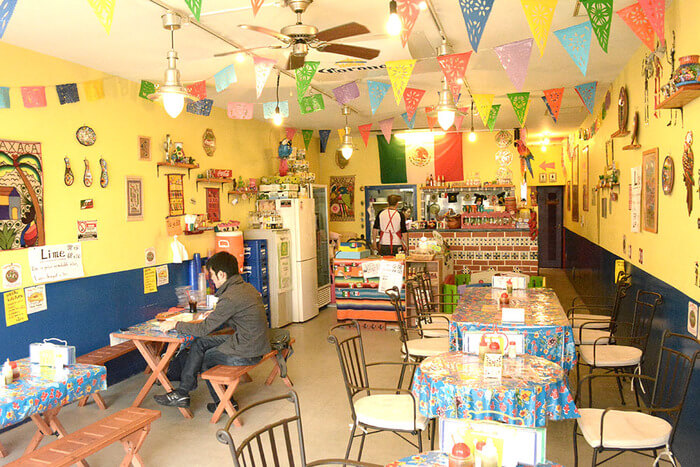 "Dos Manos" sits just outside the entrance of Okinawa City's "Ichibangai" shopping arcade, along route 330. It is here where you can taste authentic Mexican food―a rare experience even in such an international city.The owner encountered delicious foods of Mexico when he visited the country, and was so moved by all the unique flavors that he went on to open this restaurant.At Dos Manos, you can enjoy tortillas―Mexico's staple food―used in their tacos, quesadillas, burritos and enchiladas. You have a choice between corn or flour tortillas.As the store's name implies in Spanish ("two hands"), they hope customers will find happiness as they eat their food using both hands. Even Mexican-Americans who live in Okinawa are moved by the food at Dos Manos, saying it tastes "just like grandmother's cooking!"
オーナーはメキシコで本場のメキシコ料理に出会い、深い風味に感動、お店をオープンする事にしたそうです。メキシコ料理の主食トルティーヤをメインにタコス、ケサディージャ、プリート、エンチラーダなどが楽しめ、トルティーヤはトウモロコシ粉を使ったコーントルティーヤと小麦粉を使ったフラワートルティーヤの2種類が味わうことができます。
ZIP
郵便番号

904-0004
Address
住所

1-3-15 Chuo, Okinawa-shi
沖縄市中央1-3-15
TEL

098-989-8815
OPEN
営業時間

12:00~17:00
Closed
定休日

Tuesday, Wednesday, Thursday
火曜・水曜・木曜